Skip to content
Specialized services to meet unique small business needs
By leveraging the expertise of PASBDC business consultants, university partners, and industry experts, the SBDC offers small business assistance in areas requiring specialized knowledge and experience.
The PASBDC Environmental Management Assistance Program
Provides statewide, no-cost and confidential assistance with environmental regulations. EMAP environmental consultants work with SBDCs through a business-to-business exchange, the Pennsylvania Material Trader, to helps small businesses "Go Green" and become more sustainable.
Additional Resources:
Government Marketing and Procurement
Government marketing services are available to help PA businesses diversify sales streams and procure contracts with the federal, state, local and quasi-government agencies. Business owners can register with government databases, find contracts, and gain feedback on proposals through Pennsylvania SBDC's online Bid Match service, the Southeast Pennsylvania Procurement Technical Assistance Center (PTAC)
Additional Resources:
International Business
PASBDC consultants can help business owners develop and implement exporting strategies for increased sales. Services offered include helping companies assess their international trade readiness, evaluate products or services for export potential, identify market opportunities, identify sales agents and distributors, and review trade procedures and regulations.
Additional Resources
Technology Assistance
Pennsylvania SBDCs assist small businesses looking to determine the viability of technologies, obtain financing, or introduce new technologies to market. SBDC consultants work closely with Innovation Partnership (IPart), a consortium of economic development and business assistance organizations located throughout Pennsylvania whose goal is to help early-stage technology companies secure federal funding opportunities.
Additional Resources:
Student Entrepreneurs
In addition to our core consulting services, the Penn State SBDC works with student entrepreneurs interested in turning an idea into a business. The Penn State entrepreneurial ecosystem provides a variety of academic and extracurricular opportunities.
Resources:
Entrepreneurship events:
Academic Programs:
Additional Initiatives:
FEATURED TRAINING
GrowthWheel 360º
Getting a 360º Perspective on Your Business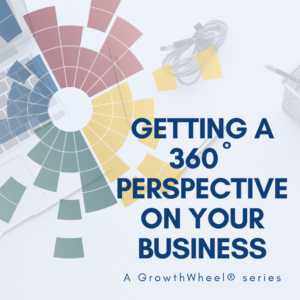 Getting a 360º Perspective on Your Business" is an interactive, 5-week cohort program that will help entrepreneurs and startups design and articulate an attractive business concept, build a strong organization behind it, develop lasting customer relations, and do so while maintaining profitable operations.
The program, ideal for business owners and entrepreneurs who are ready to scale, will utilize Growth Wheel 360º, an interactive, online tool designed to help business owners take an objective view of their business to identify key focus areas and make more effective decisions.
Each week participants will engage in a 3-hour, hands-on workshop that will help them identify and overcome barriers to growth. Each workshop will feature a guest speaker who will cover the key topic of the week and offer answers to participant questions. In between weekly sessions, participants will have the opportunity to meet with a certified Growth Wheel advisor for individualized business coaching.
CLIENT SUCCESS
An Innovative Idea with No Strings Attached
In early 2020, Dana Hendrie was working as a 5-star rated tour guide in New York City when the pandemic hit and tourism in the city shut down. Learn how Dana worked with the SBDC to develop a business plan, launch her business Finally Free, and market her products.
READ MORE